My name is Tom and I have been a volunteer for the Senior Care Volunteer Network for the last 9 years.  A short time ago, the Volunteer Coordinator Kerri asked me if I would make a friendly visit and I said sure.  Kerri gave me the contact information for John, who lives very close to where I live.  She told me that John was 103 years old, and I couldn't wait to meet him.  I telephoned John, introduced myself and asked him if I could come by for a cup of coffee and he said sure that would be great, so I went to Walmart for a couple of doughnuts and was ringing John's doorbell 10 minutes later.
John is an amazing guy…he made the coffee and we sat at the dining room table for coffee and doughnuts. Our conversation started and we found out that we shared a lot of common interests. John played baseball and he was a very talented left-handed pitcher that was drafted by the White Sox but due to injuries he never made the major league roster. I played 16″ softball in Chicago and still play in the Senior Olympics. We swapped stories and were just getting warmed up.
John and I both share a love for the game of golf. He showed me an article in the local paper about his last round played when he was 100 years old! We shared some golf stories and pretty soon it was time for me to go…we were amazed that we were so immersed in our conversation that I was there for 2 hours!
Since that first meeting, I've gone over to John's house for coffee and donuts quite a few times and we usually trade books on the White Sox or Chicago sports in general.  He showed me a big book on World War II which he let me take home and it took me two weeks to go through it. It was a huge book, and I really didn't read the whole thing, but I did look at every black and white picture.  I gave him some books on the Chicago White Sox and Old Comiskey Park that he enjoyed and knew a lot of the old Sox players!  Once I even brought over a baseball that had 17 signatures on it and a lot of them were Hall of Famers.   He recognized most of them and even recalled some of their stats!  He really enjoyed the autographed ball, so I gave it to him.  He said no no no but I told him that I originally got the ball in a silent auction at a Children's Therapy fundraiser.  I've had that ball for the last 25-30 years and it was his turn now.  I had a nice plastic case for it and he was just as happy as could have been when I handed it to him…his big old smile at that moment put a big old smile on my face too.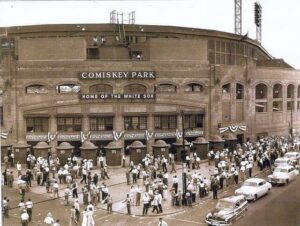 So that's how our friendship began…it started with a friendly visit! John's a wonderful guy and we have some great conversations and I really appreciate his friendship.
I also appreciate the thoughtfulness of Kerri to feel that we could make this wonderful connection.  So, if Kerri asks you to make a friendly visit, just say "YES!"…it can be one of the best decisions you'll ever make and you'll make two people very, very happy…you AND your new friend!