When a senior is unable to attend necessary medical appointments due to a lack of transportation , our services can be life-critical. However, our volunteers will also tend to other requests for transportation needs beyond just medical appointments. If a ride is requested for a recreational or social activity, our volunteers are willing and able to accommodate those needs. We know that getting out and being social is as equally important. Social activity combats feelings of isolation and depression which can often lead to early institutionalization.
When people know there is someone there for them, someone who cares, and they know they can still be an integral part of their community, they remain independent longer.
In our last fiscal year, volunteers drove 164,603 miles, and dedicated 18,054 volunteer hours to assist 1177 local seniors.  Our services saved seniors and their families $440,420.  There is concern about the growing senior population both nationally and in our community.
If you would like to enroll in our program and benefit from this much needed service, please call the office for more details and request and intake at 815-455-3120.
Transportation Alternatives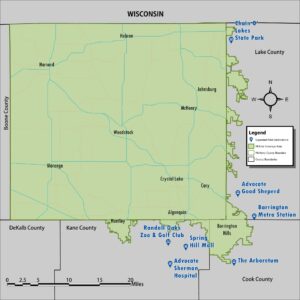 McHenry County MCRide Dial-A-Ride
MCRide Dial-a- Ride is a fantastic way to get around McHenry County. Whether you need transportation for work, school, shopping, medical appointments or just to visit a friend, MCRide provides an affordable and flexible way to travel!
As a dial-a-ride program, MCRide service is a coordinated countywide paratransit service, and vehicles do not travel in a fixed route each day. Riders schedule their trips in advance and the vehicle provides curb-to-curb service from the rider's desired pick-up and drop-off destinations. MCRide is a shared-ride service, so vehicles may make stops for other passengers. Drivers cannot escort you to/from your door or carry your packages.
If you have questions about where you are eligible to travel, please contact the McHenry County Division of Transportation at (815) 334-4981 or [email protected].
To reserve a trip on MCRide call 1-800-451-4599
 or use 711 for the Illinois Relay Service. Reservations can be made Monday-Friday from 5:30 a.m. to 6:00 p.m. and Saturday-Sunday 8:30 a.m. – 4:00 p.m. (Because of low staff levels on the weekends, call takers can only make same-day trip reservations on Saturday and Sunday. Reservations for Saturday, Sunday or Monday trips can be made on Fridays.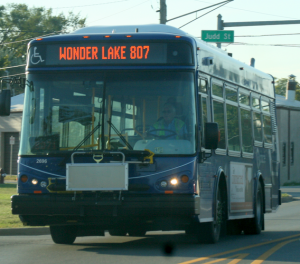 Pace Bus Fixed Routes
Pace runs multiple fixed bus routes (www.pacebus.com) throughout McHenry County, All Pace buses and Metra trains are ADA accessible.
For more information on fares and schedules, click the routes above
For an interactive route map visit Pace Service Area (pacebus.com)